A Chessboard and Pieces
I'm in-between things right now and wanted to build something small and manageable. I settled on a chessboard and pieces since I wanted to donate the model for general use and I hadn't seen one for free.
Pretty much built in a evening. Rotoed a picture of a chess set and set to modeling. The horse is a bit funky and the bishop has some spline weirdness in the slot in the head that I didn't go back and correct. It wasn't obvious to me how to model around it properly, so I moved on.
Below is a thumbnail for the image which links to a larger version
Some facts:
A simple material for the marble pieces
A slightly odd one for the wood
No real material on the pieces
Spec/Diff maps on the wood and marble, Bump on the wood
Simple three light choreography
Roughly 1800 patches on the board, 350 or so per piece (x5 pieces)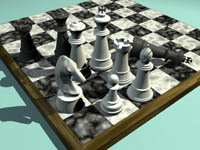 You can find a copy of it for general use at http://www.AnimationPitstop.com/
---