We just got back from a 10-day road trip. We're tired but it was a great trip! The impetus for the trip was to visit my daughter, Laurel, down in Berkeley where she lives how for her new career as a Software Developer. (I'm very proud of her for her accomplishment as she was a broke-ass college student finishing her Graduate degree in Social Work not so long ago, so this was quite the transition)
Christina and I had talked about taking a Road Trip for some time. We travel well together and it had been a while and we'd never really done anything on this order before. We had been tentatively planning a month-long road trip, perhaps for some time this summer, but circumstances caused us to scale it back and look at this more as a training trip or experiment to see how we'd do.
Historically, most of our vacations tend to be the one-week variety.  Initially, this was due to the restrictions of work, but over time it became kind of the optimal duration.  Much longer than that and I'd start missing my stuff!
We were brainstorming what we'd like to do on the trip, besides visiting Laurel, and Christina mentioned that she'd never been through the Redwoods before.  Done!  On the list.  Years ago I'd gone to the Marin County Farmers Market and it was cool and upscale, so I thought it'd be fun to go to that and they had a Thursday version, so that went on the list.  We both observed that we'd never been to Lake Tahoe before.  Done!  On the list.  So, the trip roughly became driving to Berkeley via the Redwoods, stay in Berkely for a few days then off the Lake Tahoe then back home.  A girlfriend of Christina's mentioned a place called Burney Falls in California, which also made the tentative list.
I had originally thought a road trip with nothing fixed in stone would be fun. Still, the reality is that we planned this trip around a fixed few days in California, so that meant we had to figure out roughly how long to take to get down there and Christina had some things to do near the end of the trip, so that became a fixed end point for the trip.  So, nothing fixed in stone sounded neat but wasn't very realistic.  That triggered the planning part of my brain, so I sketched out our trip.
(I use an app called Bear on the Mac and iOS so I can share info, sync across devices and write it without a lot of focus on formatting and more on content.  This is dropped from that.)
California Road Trip
Route:
Monday, Day 1. Home to Grants Pass Oregon (300 miles, 5 hrs – Late Start)
Tuesday Day 2. Grants Pass Oregon to Eureka, California (160 miles, 3h20m – Mosey Day)
Wednesday Day 3. Eureka, California through Avenue of the Giants to Petaluma, California (233 miles, 4hrs, Time to enjoy the Redwoods)
Thursday Day 4. Petaluma, Ca to Marin Farmer's Market to Oakland, Ca (45 miles, 1hr – Market and site-seeing Day)
Friday Day 5. Visit with Family
Saturday Day 6. Visit with Family
Sunday Day 7. Visit with Family
Monday Day 8. Oakland to South Lake Tahoe (180 miles, 4 hrs)
Tuesday Day 9. Visit Lake Tahoe
Wednesday Day 10. South Lake Tahoe to Burney Falls, Ca to Grants Pass, OR (400 miles, 7hrs)
Thursday Day 11. Grants Pass, OR to Home (300 miles, 5hrs)
Total Miles: approx 1600
Avenue of the Giants
Avenue of the Giants Auto Tour – Roughly 30 miles and 30 minutes or however long we take (we took about three hours!)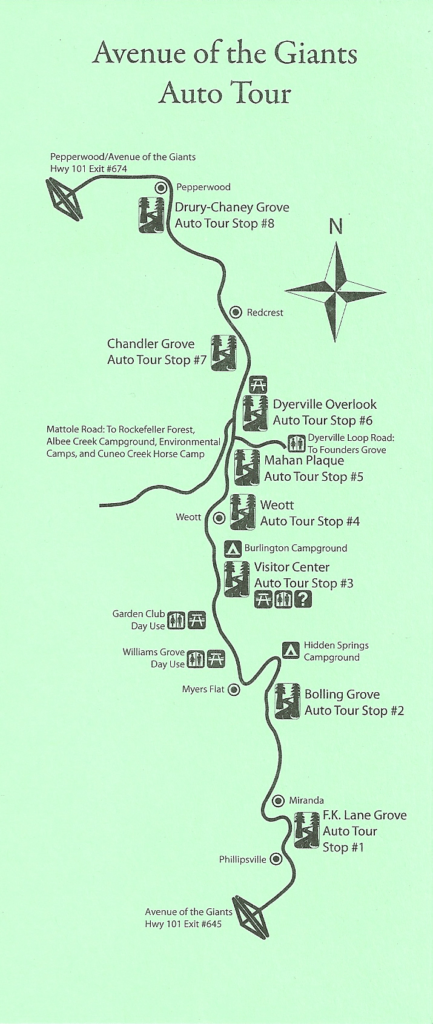 Marin Farmers' Market
Thursday Marin Farmers Market
Location: Veterans Memorial Auditorium Parking Lot, San Rafael
Thursday: 8:00 am – 1:00 pm
Open All Year
Contact: (415) 472-6100
---
As it turned out, we stuck to our plan pretty well. Not surprising for the two of us since if we say we're going to be at a place at a given time, we both get stressed if we don't hit that time. But, I felt good because we'd built in a lot of room for just messing around and taking our time and that worked out really well.
On Day 2 we messed around in Eureka, which is a small town on the coast.  The California coast, unsurprisingly, looks a lot like the Oregon coast.  We had seafood for lunch, which was fresh and pretty good.  We explored an area near a lighthouse.  This was fun because the way to get to the "island" for the lighthouse was via a low path that the water could wash over.  The tide was coming back in so by the time we left we had to rock scramble a bit and if anyone went over there after us, my guess is they got wet coming back!
Day 3, especially the Avenue of the Giants, was really special. Redwoods will literally inspire awe. They are awesome. There's something just different about them and scale is only part of it.
California has done a really great job of protecting some of the amazing trees and the Avenue of the Giants is a great way to be able to just stop and walk amongst these giants at your leisure and enjoy them in their natural habitat.
Christina, having never been to the redwoods before, had also never driven through an actual redwood, something we did on our California trip that we went on when I was a kid. So, of course, we had to give that a try! Turns out there are still three places where you can drive through a redwood. They're all tourist attractions, but it was still fun! Our Subaru Outback could just barely, with the mirrors in, make it through what claimed to be a 7' by 7' hole carved in the tree. Actually a chunk of a tree, but still. It was fun. We talked to the guy who ran the place and he said his Aunt purchased it in 1958. He had been running the place since I think around the year 2000. So, a family affair!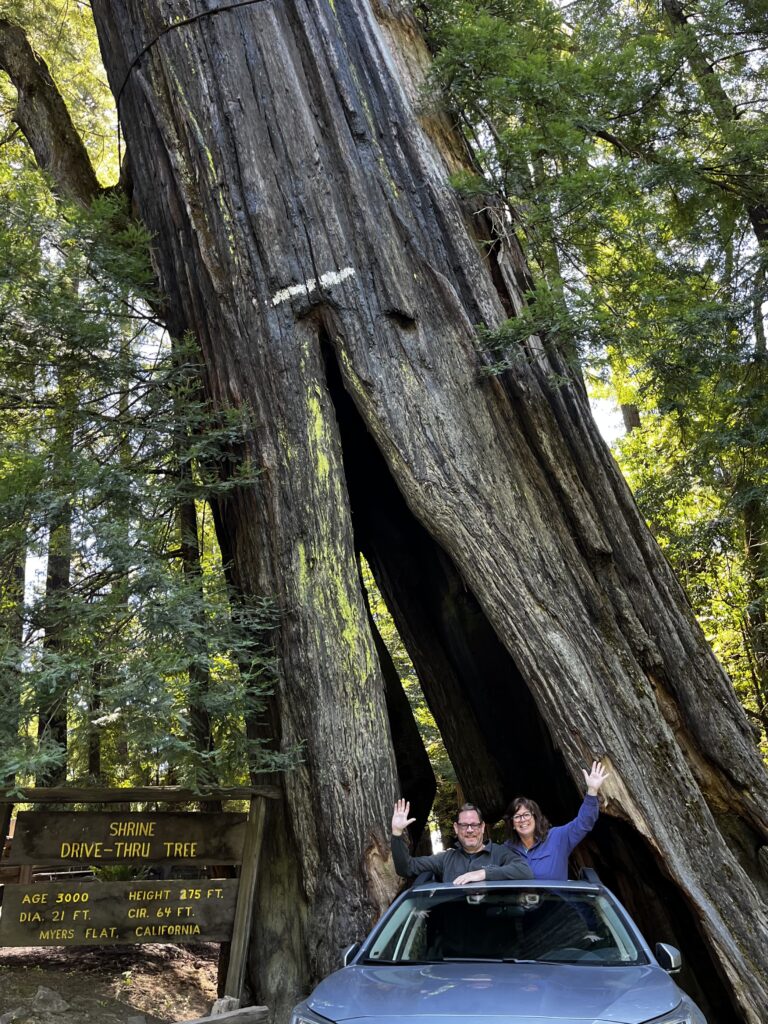 We stayed that night just north of Petaluma in a place called Rohnert Park. We had dinner next to a couple and started talking about where we were going and they recommended a couple places for us to check out while we were in Berkeley.
I will say this: The vast majority of folks we ran in to and talked with were very nice! At the same time the vast number of drivers that we interacted with were … not nice. They were assoles. I did not enjoy driving around Oakland and Berkeley and was more than happy to let my daughter and Christina do the bulk of the driving. Too much chaos makes Darrin a Sad Boy.
On Thursday we drove from Petaluma to the Thursday Marin Farmers Market. It was great! Very well run, lots of variety including fruit and veg. Christina found someone selling fava beans and decided to give them a go! They looked like immense pea pods. We tried them that evening and although we were lacking a nice Chianti, we thought the fava beans were pleasant enough.
Since we had time, we also explored and found one of the places that was recommended to us.  It's called Urban Ore. It advertises itself as "Three acres of recycled goods in the San Francisco Bay Area".  And so it was!  Lots of odd things.  We toyed with getting onesies covered in tacos.  There were clothes and household items and doors and hinges and hardware and all sorts of odds and ends!  Some of my favorite things were not for sale, but I would have been interested!  Of these two, one I found very, very creepy and the other I would have purchased.  Guess which is which!
We crashed at our AirBnB, which was near the south end of Lake Merritt in Oakland.  It was a guesthouse behind an early 1900's home and while it could have benefitted from some updates, it was a fine place to spend a few days.  We had offstreet parking and the neighbors were nice.  Especially Olive, the lovely dog next door who behaved as if no one had ever pet her, which her owner made clear was not the case!
The next day, Friday, Laurel took us into the city so I could go to SFMOMA. I loved it, no surprise there. I was surprised that they didn't have any Keith Haring, which I think of when I think of SFMOMA, but you can't show everything all the time!
We took BART into the city from Oakland and Laurel was a great guide!  Christina headed off to do a bit of shopping on her own while Laurel and I argued/discussed art.  She has a much more open mind about whether art has to be understood or if it's even necessary for the viewer to be able to figure out what the artist intended than I did, so I enjoyed grumping about my difficulties understanding art, so I think a good time was had by all!
The next day the kids took us out and about and we took a nice walk around César E. Chávez Park in Berkeley where we got some awesome views of the bay and some gorgeous weather. Later, we had lunch at Viks Chaat, which is some spectacular Indian food. Great choice, especially since I'd been missing Indian food for a while where we live currently.
We got to try a variety of foods while we were there and I had a really fresh mango lassi, which is just so nice!  That was an awesome choice on the part of the kids!
Sunday was very chill as we hung out with the kids, Laurel made some soup and we had some great bread and I played a video game with the kids. I lost. Badly. But, it was a group party game, so the stakes were low and the company was excellent!
Monday, we headed out to Lake Tahoe. It was a great drive through the more rural and desert-y parts of California. It reminded me of Eastern Oregon or Washington. We picked up about 6000' of elevation as we climbed towards Lake Tahoe. The Subaru did very well on the road trip!
Lake Tahoe is around 122,000 acres of water. That's an immense lake! We have a lake that's on the same order, Lake Pend Oreille north of Spokane at 95,000 acres. But Tahoe is huge! It's also deep as the only lake deeper in the US is Crater Lake.
We wrapped up the trip and headed home on Wednesday, driving from Lake Tahoe to Burney Falls, which is a lovely falls located roughly in the middle of nowhere in northern California.  It was a nice stopping point to stretch our legs in the middle of a big drive day, too.
We finished that day in Grants Pass (for the second time on this trip) and crashed for the evening.
The final day was about five hours of driving spread into six as we had a couple of pit stops, including having to add air to one tire.
I'm really fortunate that I've got a great partner in Christina. She will share in driving and planning and picking out places to eat or things to do. So, that all doesn't have to fall on one or the other of us. Plus she's great at negotiating and compromising. We enjoy each other's music choices when we're driving (The driver gets to pick music, that's a law, right?).
Am I ready to sign up for a month-long road trip? Nah. Not right now. I'm good. It's good to be back home and enjoy our place and all that it offers. But, it really was a great road trip and I'll be ready for the next one when it comes along!