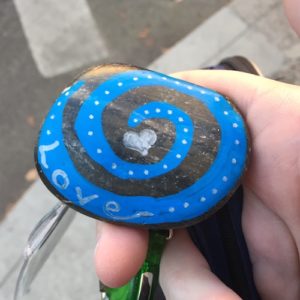 Have you heard about Vancouver Rocks? Here's a story from the local paper. Here's the Facebook page which describes and shares some of the creations.
Basically folks have been painting, hiding and finding rocks up in Vancouver where I live. My wife told me about it after she became aware of it. One weekend morning a few weeks ago we wandered Orchards Community Park for my first time and looked for rocks. We each found a couple and had a really nice walk exploring a new park. Also met a couple of other rock hunters who were thoroughly friendly and enjoying the hunt.
We had so much fun with it we even painted a some rocks ourselves to hide when we get a chance. Christina already hid a few of them. Here are a few we have left and one of the rocks I found on my first adventure. (I painted the Princess Leia. It's my favorite.)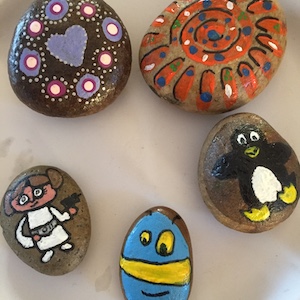 This last week, as I was exiting my parking garage in downtown Portland, some color caught my eye and I spotted the rock up in the cover photo. And with such a simple message: Love.
I'll probably hide this somewhere else downtown just to spread the fun.
I feel it's this kind of act of creation coupled with the serendipitous and unexpected joy of discovery that can offset many of the realities of life that may get me down about current events and helps offset some of the fear I have of the future.
Here is something that is a purely positive event which takes place in the real world. You find a rock, you celebrate. You paint a rock and someone finds it. One person gets the joy in the act of creation, another the joy in discovery and maybe the pleasure that comes with re-hiding and hoping someone finds it as everyone moves forward putting that positive energy back out in the world. From one small act, many ripples can occur.
There's no great reason for it, there's no message or goal, it seems, other than to create moments out in the real world between people who will never meet but still find a way to communicate with each other.
How wonderful is that?